was established in 1936, at the biggest port of Greece, Piraeus. It is a family owned firm that follows the family tradition, manufacturing the worldwidely well-known:
Authentic Hellenic Fisherman's caps,
as well as
Military caps

Civilian caps

Cork helmets &

College caps
The caps come in 36 variations to meet all market needs and requests. Styles vary from the very classical look to modern look and colors.
The customers have the ability to print their own logo inprint, in the caps' headband, thus personalising the product to meet advertising purposes as well.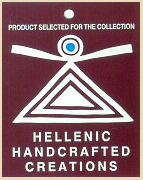 Offering excellent quality, low prices, hand-made products, a 35-year experience in exports, the company has managed to make the
Hellenic Fisherman's caps
the most loved caps and hats, made by woolen and cotton materials, all environmental friendly.
Quality Policy Declaration
Our Company's policy has as fundamental objective the market supply with high level stable Quality products.
Our Objectives are:
The entire range of our products to meet our Customers requirements and to completely cover our National and International (models). Standards.
To meet our Customers greatest satisfaction of needs from the very first contact with
HEIRS OF JOHN Z. TSALAVOUTAS EE
and repeatedly en each and every cotout, at the lowest possible cost.
The achievement of the total annual measurable quality objectives determined by
HEIRS OF JOHN Z. TSALAVOUTAS EE
The continued improvement of the Company's position in the market, and improvement of the Company's entire results.
For the achievement of the above,
HEIRS OF JOHN Z. TSALAVOUTAS EE
has defined and applies a Quality Control System, which includes all Enterprise's vital operational aspects, which influence the Quality of products and Services produced by the Company.
The Quality Control System is followed, maintained and improved through the Evaluation and Revision Inspection Schedules. It is drawn thus so as to give weight to the prevention, without underestimating the corrective actions mechanism, when non-conformity to the System's requirements occurs.
The objectives are achieved by:
Employment of adequately trained personnel.
The auxiliary operations and by the use of required resources (moral and material).
Continued briefing and sensitization, in technical aspects and Quality Control.
All above mentioned guarantee conformity to the requirements of Quality and course in accordance to ISO 9001: 2000 model.